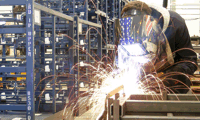 EISEN™ is a high volume manufacturer of returnable packaging, and engineered fasteners.

Our products are used daily in critical applications by OEMs in automotive, appliance, medical, and oil refining industries. With fulfillment locations in US, Canada, Mexico, and India, customers are offered seemless supplies to their manufacturing plants in these countries.

Since 1994, Eisen has embraced a multi-product and multi-industry strategy to compete effectively in the global market. Innovative products, finest engineering, and low cost are hallmarks of all Eisen operations.