Applications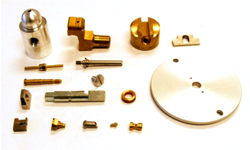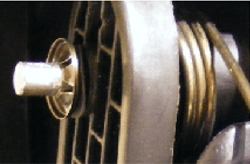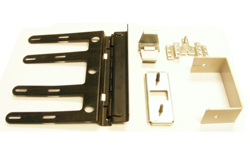 Download PDF of this page.


Pins Surpassing conventional cutting process shafts, our cold forged technology yields high quality and high precision shafts for mass production. These shafts are the optimum mechanical units for automotive mechanisms. Key Advantages: Low Cost, Low Vibration, Can be mass producted, Can have secondary machining.

Shaft Retainers Shaft retainers or push nuts have teeth that project inward from the Inner Diameter or outward from the Outer Diameter, and flex as the retainer is pressed down on to a shaft or into a recess tube. Flexible teeth grip the entire circumference on the shaft or recess and strongly resist any back-off pressure. A toothless version of shaft retainer is also produced.

Brass Bushings Brass inserts and bushings made on Swiss type screw machines. Our most common grades are C3600 and C3604.

Small Stamping Brackets Small stamping brackets are produced according to customer specifications. Generally supplied with attached bolts, screws and wire forms.

Molded Inserts These heavy duty threaded inserts are used for inserting molding into glass filled thermoplastic and thermoset materials. Diamond knurls and multiple undercuts lend exceptional rotational resistance to these parts. Made from both Steel 12L14 and Brass C3600. Steel inserts are designed for mass production, high tensile strength, and low piece cost. Key Advantages Low Cost, High Tensile Strength, Mass Produced.

Compression Limiters Used to protect plastic and aluminum parts from cracking under compression forces when crews and bolts are torqued through holes in these parts. Split seam versions have a gap to allow some flexing and accommodate initial assembly. This type is ideal for insert molding and press-in-place applications.

Spacers Heavy duty spacers are manufactured on screw machines. Features include 1-1/2 inch diameter stock, sharp corners, high tensile strength, internal threading. Suitable for low to medium volume.