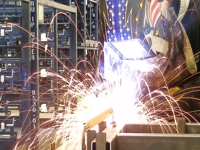 EISEN manufactures returnable packaging and sewn dunnage for automotive applications. With in-house steel fabrication and sewing capability, primary product offerings are steel racks, bag racks, collapsible racks, and sewn dunnage.

Average fleet size per project is 250-4000 racks. Proficient in manufacturing racks used for robotic work cells, instrument panels, and doors. With three fulfillment locations, Eisen can execute projects economically in US, Mexico, and Canada.

Established in 1994, Eisen embraced a multi-product strategy to fuel its growth. Innovative engineering, robust process controls, and low cost are the hallmarks of all Eisen operations. Every year, Eisen invests in R&D to develop innovative products that bring significant cost savings to users of our products.