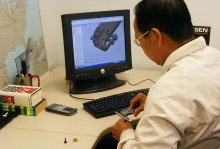 Since the early 1990s, EISEN™ has evolved into a global supplier of high-volume engineered fasteners. Our products are supported by a world class engineering group providing product development services to leading OEMs in electrical and automotive markets.

The complete range of products and services are offered to our customers at a global level, enabling them to manufacture high quality products in the shortest time possible at the lowest acceptable cost.

Click below for more information about each of our products for assembly, or browse the products in our Quick Ship Program.