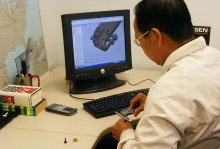 Eisen Fasteners Division manufactures all types of critical fasteners and C Class components in various metals and alloys. Our design, metallurgy, fast prototyping, and manufacturing capabilities are unique in the industry. The breadth of our product offering and engineering knowhow enables our customers to work with us as a trusted strategic partner. With a strong presence in automotive, truck, electric, refinery, and construction industry, Eisen can design and manufacture most any kind of fasteners in any kind of quantities.

The complete range of products and services are offered to our customers at a global level.

Click below for more information about some of our fastener lines, and contact us from the Locations page.